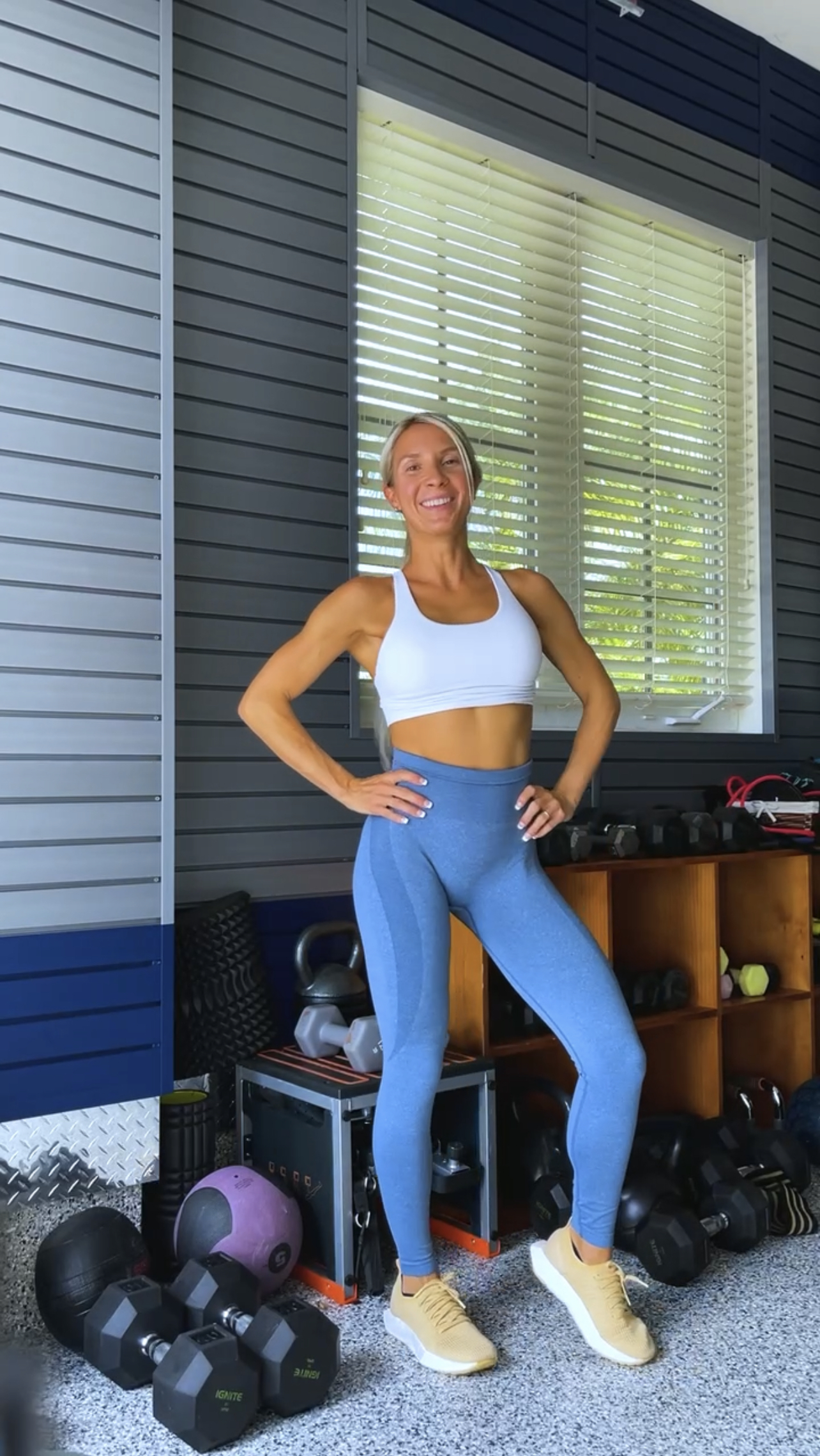 Take your fitness to the next level with my 6 week workout program....


Introducing my 6 Week PUSH Program for Advanced Fitness Enthusiasts!
Are you ready to PUSH yourself to the limit and see what you're truly capable of? My 6 week workout program is designed for those that have a more advanced fitness baseline or that have completed 8 Week TONE and want to continue to challenge themselves! 
Each week, you'll perform workouts that are specifically designed to help you push your body to its limits. Program structure: 5x a week including 2 lower body, 2 upper body + abs, and 1 day of your choice of cardio or my HIIT Circuit. Each workout will take ~30-40 minutes depending on rest periods while the HIIT circuit will range around 20 minutes.
As your online fitness coach, I am dedicated to helping you reach your goals and feel confident in your own skin. With my guidance and support, you'll be able to take your training to the next level and see progress you never thought possible.
Don't let a busy schedule or lack of gym access hold you back. This workout program is completely online, so you can get fit on your own terms, from the comfort of your own home. Sign up for 6 Week PUSH today and let's get started on your journey to a stronger, healthier you! 🚀

Testimonials:


"I have never felt stronger, sexier and mentally healthier." – Carling


"Just purchased the entire bundle, the plan is nicely laid out for you, and it's easy to follow. I'm pairing this with Zumba classes and I can't wait to see changes over time. I've been looking for a simple starter plan to follow that wasn't complicated for beginners, she nailed it! Thanks!" – Dominique H.
"After watching her reels and social media the last few months, I started a new 4 week circuit program created by @dominiqueneto_fitness today and lemme tell ya, even after years of heavy lifting, I'm glad I started with light weight! I already own her required equipment so I was able to do her portion of my workout at home and I am SUPER impressed. I can already tell I'll have 'baby giraffe' walk going the next few days after this circuit." – Sarah L.
"I can't say enough good things about this program! Having a couple permanent injuries to my foot and shoulder, I always start new programs super light weight or bodyweight and this challenged me even after years of lifting heavy. I enjoyed it so much I am starting from the beginning and going a bit heavier, I don't want it to end LOL! I have always hated working out at home, I needed to be in the GYM to feel accomplished, this program helped change my view on that and opened me up to a new world of happy! I absolutely plan to go for 8 Week Tone Program in the near future. Thanks Dominique!"
– Sarah D.

FAQ's
What's included in 6 Week PUSH?
Challenge structure: 5 days a week including: 2 lower body days, 2 upper body days with ab days, and 1 day of your choice of cardio of my HIIT Circuit.
You will have access to the workout videos showing you each movement and their accompanying PDF's. The videos are for instructional purposes since rest periods may vary. This will give you the ability to train at your own pace! Watch the videos so that you can properly perform each exercise and perfect each movement (each video is around 1-2 minutes showing you each exercise).
Is this program for all fitness levels?
PUSH was designed for the experienced or those who completed 8 Week TONE however, if you are just beginning your fitness journey, I would recommend starting with my 4 Week FORM Program before jumping into 8 Week TONE or 6 Week PUSH.
When beginning a fitness program, remember to focus on quality movements while performing each exercise and take your time. If you feel like you need to increase/decrease the difficulty of certain exercises, simply increase/decrease weight for that exercise. The goal is to reach your "failure" point at the end of each set.
Can I start anytime?
Yes! You can begin when it's most convenient for you with lifetime access!
Can I switch up the days?
Consistency is key. I would try to be as consistent as possible. The reason why I say this is because once you are consistent when working specific body parts, your body will begin to recognize that muscle group and continue to build from where you started. If you feel like you need to change a day to better accommodate your schedule, please do! However, I will ask that you stay consistent to maximize your training and progress.
What equipment do I need?
You will need access to the following equipment whether at the gym or at home (some are optional since it depends on your fitness level):
Dumbbells
Resistance band
Mat
Bench (or similar)
Barbell*
Kettlebell*
Leg weights (optional)
*Barbell and kettlebell can be substituted with dumbbells.
Amazon Storefront listing the equipment that I use:
https://www.amazon.com/shop/dominiqueneto_fitness/list/3EM31XSAIE6RB?ref_=aip_sf_list_spv_ofs_mixed_d
Where do I access the program?
All programs are available on the Teachable platform where you will create your own login. The program is accessible via the Teachable iOS App, or you have the option to login via your tablet, desktop, laptop, airplay to your TV, you name it! You will have lifetime access so you can go back to it whenever you would like!
Can I combine your program with other exercises (i.e. cardio?)
Yes you can! In fact, I combine cardio with strength. Go for a walk, run, spin class, anything that you also enjoy doing! It will only compliment my programs.
Do you offer 1:1 coaching?
Yes! Feel free to apply here.
Other questions?
Please don't hesitate to reach out to me at:
Check your inbox to confirm your subscription